Sign my
GuestBook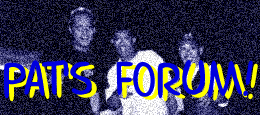 (yes, I'm a lifelong Laker fan, and damn proud of it too!)
last updated: March 13, 1999
Hi, and welcome to Pat's Forum, my little (at the moment) personal place on the Web. My name is Patrick Galamay, and I'm presently a student at the University of Hawaii, Manoa campus. I'm a proud graduate of Waipahu High School, Class of 1990. I'm always on the lookout for new friends, whether it be at the clubs, on campus, playing on the basketball courts of Oahu, or online. Reach me by ICQ (my ICQ number is 9100889) or e-mail me at galamay@lava.net.

Pat's Top Ten

(a countdown of things you might find funny, interesting, and whatever, mostly to do with me)
(this top ten list is subject to change upon my whim, and whatever catches my interest)
And now...
My Top Ten New Year's Resolutions I Won't Keep or Won't Happen

10. Pass all my classes with an "A" average.
9. Stop going to strip bars.
8. stop talking about people behind there back.
7. Find a girl friend.
6. Stop going to strip bars.
5. Get a real job.
4. Pay rent at home.
3. Stop watching Porno movies.
2. Become a better basketball player.
1. STOP GOING TO STRIP BARS.

find my "top" lists interesting? Click here for previous lists!
Some of my favorite places to visit on the internet:
Click on the pic to see more pictures!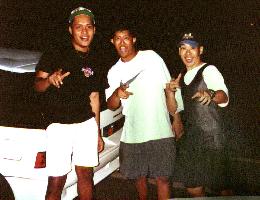 Jerome, Me, and James after playing ball. Photo taken by Allen.
Jerome called this pic "The Three Basketeers"!
Thanks for visiting my webpage. I hope to have even more things here as I figure out how to maintain and develop the whole having-a-web-page concept.

Just me,
Patrick G!
Sign My Guestbook
View My Guestbook